Overview
WWE teams up with the Director of Jackass and Bad Grandpa, Jeff Tremaine, to give you the hilarious original series, Swerved.
Featured Crew
Creator
Last Season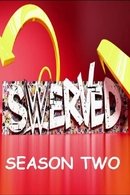 2016 | 9 Episodes
WWE reunites with the director of "Jackass" and "Bad Grandpa," Jeff Tremaine, for a second season of the hilarious WWE original series Swerved!
Recommendations
We don't have enough data to suggest any TV shows based on Swerved. You can help by rating TV shows you've seen.
Content Score
We're so close, yet so far.