Overview
Media
Fandom
Share
Overview
After a traffic accident, Kazuma Sato's disappointingly brief life was supposed to be over, but he wakes up to see a beautiful girl before him. She claims to be a goddess, Aqua, and asks if he would like to go to another world and bring only one thing with him.
Kazuma decides to bring the goddess herself, and they are transported to a fantasy world filled with adventure, ruled by a demon king. Now Kazuma only wants to live in peace, but Aqua wants to solve many of this world's problems, and the demon king will only turn a blind eye for so long…
Creator

Creator
Last Season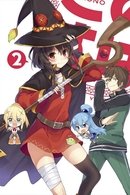 2017 | 10 Episodes
After choosing the new world, the goddess Aqua tasked him with defeating the Demon King. Not only is he stuck with a useless deity turned party archpriest, the pair also has to make enough money for living expenses. To add to their problems, their group continued to grow as more problematic adventurers joined their ranks. Their token spellcaster, Megumin, is an explosion magic specialist who can only cast one spell once per day and refuses to learn anything else. There is also their stalwart crusader, Lalatina "Darkness" Dustiness Ford, a helpless masochist who makes Kazuma look pure in comparison. This Season continues to follow Kazuma and the rest of his party through countless more adventures as they struggle to earn money and have to deal with one another's problematic personalities. However, things rarely go as planned, and they are often sidetracked by their own idiotic tendencies.
Content Score
Yes! Looking good!