Overview
Media
Fandom
Share
Episodes
3
Dominique/Mona written by Lizzy Weiss, directed by ??
Dominique, and Mona, Identical twins. Dominique, is a hard working, uptight girl, as her sister describes her as. Mona, the easy going girl, and a lesbian. Dominique has a test, and asks Mona what is she is getting for the class. Mona tells her she's getting an A, despite her wildness. Mona gets the idea, to switch places, so Dominique could pass, and Mona could get a car from her parents. Dominique agrees, and they began to switch clothes. There is a catch, Mona tells Dominique that she needs to help her girlfriend Joy, at the PFLAG booth on campus. Dominique is sketchy about this, but says yes anyways. Everything goes find, and Jonathon bumps into Mona thinking that she is Dominique. He tells her that he wants to talk about sex, and she quickly agrees. Its presumably that Dominique and Jonathon didn't have sex yet, and he questions Mona if she is ready. She is ready, and what is seems, she gives him a blow job. Meanwhi
Read More
Dominique/Mona written by Lizzy Weiss, directed by George Verschoor
Dominique wants to have fun with Joy, but Mona disapproves. Dominique still wants to do it, and Mona goes with it, but she will go out with Jonathon. While making out with Jonathon he grabs her thigh, and she tells him that she will be right back. She rushes to Dominique who is getting ready for her date with Joy, at reveals that she shaves her pubic hair. She tells her that she needs to shave it off, or Joy will find out that they switched. Cut to Jonathon and Mona who is making out, Jonathon goes down on Mona, and she seems bored. She gives him a few pointers, and she enjoys it. Cut to Dominique who just came out of the shower. Joy arrives at the bathroom, and tells her that she was excited. They retreat to the shower, where they have sex, and it's presumably that it's Dominique's first time.
Jamie/Sabrina written by Lizzy Weiss, directed by Matthew Leutwyler
Sabrina arrives at Vanessa's home where she meets
Read More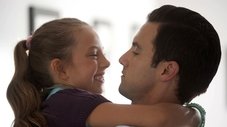 Dominique/Mona written by Lizzy Weiss, directed by Matthew Leutwyler
Dominique really feels guilty about what she did and wants to come clean. Dominique and Mona tells Jonathon, if they switched, would he have a problem with it. He tells them now, and Dominique almost tells him, but with a backhand from Mona, she doesn't. They then talk to Joy, who surprises them that she knew they switched. Jonathon then returns, seeing that he wants more sex, and Dominique, being her first time with him, tries it out. Joy and Mona laughs about straight love.
Kim/Miles written by Neil Landau, directed by George Verschoor
Still attached together, Hope, Kim's roommate come shome, and Kim tells her to get the key. She does, but she wants to know what happened. Miles quickly explains it, and Hope's friend, Tess, walks in Kim's room too. To find out Miles has slept with Tess, and didn't call her back. She asks why, and Kim wants to know too. Miles explains that he just didn't feel the magic with
Read More