Overview
The world consists of two parts: the near shore and far shore. The near shore is the place where people reside, while the far shore is the place for deities and ayakashi, which are emotional fragments that can posses humans and cause trouble. So it is a deity's responsibility to remove those ayakashi from the near shore with the help of weapons called Shinki, made from the spirits of dead people.
Yato is a minor deity of war without shrine. Together with his Shinki, Tomone, he runs a Delivery Wish Granting Service, granting wishes for only 5 yen. After his Shinki leaves him on less than agreeable terms, he decides to run simple errands that do not involve ayakashi-related matters. While on a mission to find a lost kitten, he is nearly hit by a bus, but saved by a girl named Iki Hiyori. Hiyori dies for a moment, but then comes back to life. This, however, causes Hiyori's soul to become unstable, leaving her body frequently. So by offering 5 yen, she asks Yato to fix her body... but Yato cannot help without a Shinki, so Hiyori accompanies him on his journey to find one, in the hopes of becoming normal again. But behind Yato's kind-hearted face lies a twisted past...
Featured Crew
Creator

Creator
Last Season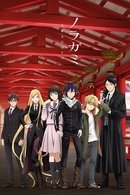 2015 | 13 Episodes
In the second season of Noragami the main focus is on Bishamon, god of war. She has many shinki due to her being unable to abandon spirits attacked by Ayakashi. She has a large group of shinki with her as leader, causing her trouble as she sometimes cannot tend to all of them properly, especially when one of them gets sick or is in pain. She has a strong hate for Yato, as a dark past binds the two of them. How will the horrifying events dated hundreds of years ago in combination with current evil happenings affect Yato and Yukine?
Facts
Original Name ノラガミ
Status Ended
Networks
Certification
Meaning

Content suitable for viewers over the age of 14.
Type Scripted
Original Language Japanese
Runtime 24m
Content Score
Yes! Looking good!