Overview
Sexy New York detective and single mother Harlee Santos fell in with a tight-knit group of dirty cops, taking bribes and protection money that she uses to provide the best life for her honest, talented daughter. But when she's trapped by the FBI and forced to inform on her own "brothers," she'll have to walk the fine line between love, loyalty, honor and betrayal, and try to keep it together for her daughter's future.
Featured Crew
Creator
Last Season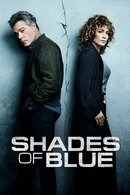 2018 | 10 Episodes
Six months after dual near-death experiences, Harlee and Wozniak have radically different reactions to their respective traumas. Harlee attempts to start anew, but she is still haunted by visions of rogue FBI agent Stahl. Meanwhile, Wozniak embarks on a vengeance quest, driven to reclaim both his standing and domain of small-time corruption and effective policing. At this existential crossroads, the crew responds to a midnight massacre that proves to have deep roots within the untouchable and corrupt Intelligence Division of the NYPD, headed by Capt. The crew walk a tightrope between justice and shielding a malevolent force within the NYPD, drawing Harlee toward the crucible of her life.
Facts
Status Ended
Network
Certification
Meaning

This program contains some material that many parents would find unsuitable for children under 14 years of age.
Type Scripted
Original Language English
Runtime 42m
Content Score
Yes! Looking good!