Overview
Saitama is a hero who only became a hero for fun. After three years of "special" training, though, he's become so strong that he's practically invincible. In fact, he's too strong—even his mightiest opponents are taken out with a single punch, and it turns out that being devastatingly powerful is actually kind of a bore. With his passion for being a hero lost along with his hair, yet still faced with new enemies every day, how much longer can he keep it going?
Featured Crew
Creator
Last Season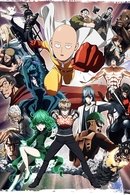 2015 | 12 Episodes
One-Punch Man is a super hero who has trained so hard that his hair has fallen out, and who can overcome any enemy with one punch. However, because he is so strong, he has become bored and frustrated with winning all his battles so easily.
Facts
Original Name ワンパンマン
Status Returning Series
Networks
Certification
Meaning

Mature Accompanied. Unsuitable for children younger than 15. Children younger than 15 years must be accompanied by a parent or guardian. The content is strong in impact.
Type Scripted
Original Language Japanese
Runtime 24m
Homepage http://onepunchman-anime.net/
Content Score
Yes! Looking good!