Episodes
1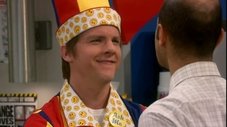 We meet best friends Laz and Fred. Just out of high school and unsure what they want to do with their lives, they take jobs at a mall food court, at the lame ""Yippee, Hot Dogs"" run by Mr. Hut. There, Laz meets Lily, the girl of his dreams. Laz cuts a deal with his dad, Rick, and stepmom Michelle, that allows him to continue living rent-free at home if he keeps an eye on his stepsister (Michelle's daughter), the angst-ridden Molly. Rounding out the family is perfect, 9-year-old Gus, the product of Rick and Michelle's union and the object of their obsession.
Read More
Crew
1
Directed by: Andy Ackerman
Written by: No writer has been added.