Overview
Rebecca Bunch is a successful, driven, and possibly crazy young woman who impulsively gives up everything - her partnership at a prestigious law firm and her upscale apartment in Manhattan - in a desperate attempt to find love and happiness in that exotic hotbed of romance and adventure: suburban West Covina, California.
Featured Crew
Creator

Creator
Current Season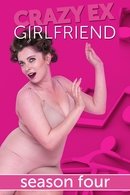 2018 | 17 Episodes
Yeah, so pleading guilty to a federal offense because you wanted to take responsibility for every sketchy thing you may have done in your whole entire life is… maybe not the best idea? Still, you have to admire Rebecca Bunch for wanting to deal with the repercussions of the very long string of decisions - good, bad and alarmingly questionable - that she's made since she took flight from New York City and landed in West Covina. This year, Rebecca is in some ways like a baby chick that's about to tumble out of the nest, and in other ways she's that friend who is searching for enlightenment and kinda can't stop yammering about it. As always, Rebecca's actions have had unintended consequences for her West Covina friends – Nathaniel feels betrayed by her, Josh is taken aback by her, and Darryl is parenting her baby. Paula, Heather and Valencia remain staunchly by Rebecca's side but they are busy finding their own identities.
Facts
Status Ended
Network
Certification
Meaning

This program contains some material that many parents would find unsuitable for children under 14 years of age.
Type Scripted
Original Language English
Runtime 43m
Content Score
Yes! Looking good!