Overview
Bell Cranell is a rookie adventurer and the sole member of his dirt-poor guild founded by the petite goddess Hestia. Adventurers come from far and wide looking to strike it big in the massive labyrinth known as Dungeon, located beneath the city of Orario. Bell is more interested in picking up girls than Dungeon-crawling, but his reality check comes sooner than expected. Saved from a brush with death by the beautiful, renowned adventurer Aiz Wallenstein, Bell falls head-over-heels and sets his sights on winning her heart, but she's not the only woman he's caught the attention of, for better of worse.
Featured Crew
Creator
Last Season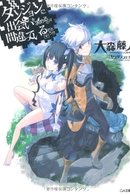 2015 | 13 Episodes
In a world, where the deities have descended from the heavens lies the town of Orario. And in the town lies the Dungeon, which contains an assortment of monsters from goblins to dragons. Adventurers slay those monsters and take their shards, which are then used to craft magic items. To become an adventurer, people join groups called Familia. Each of which is named after and serves a resident deity. The adventurers and their attributes and abilities are ranked by level, improved by experience and supervised by their Familia's deity. Bell Cranel, a novice adventurer, is the sole member of the Familia under the goddess Hestia. After being saved by top level adventurer Ais Wallenstein of the Loki Familia, he falls in love with her and decides to improve and become worthy of her attention. All the while mostly unaware that other girls, deities and mortals, also develop feelings for him. Especially Hestia herself.
Facts
Original Name ダンジョンに出会いを求めるのは間違っているだろうか
Status Returning Series
Network
Certification
Meaning

This program contains some material that many parents would find unsuitable for children under 14 years of age.
Type Scripted
Original Language Japanese
Runtime 24m
Content Score
Yes! Looking good!