Overview
Media
Fandom
Share
Overview
In a world, where the deities have descended from the heavens lies the town of Orario that features the Dungeon, which contains an assortment of monsters from goblins to dragons. Adventurers slay those monsters and take their shards, which are then used to craft magic items. To become an adventurer, people join groups called Familia. Each of which is named after and serves a resident deity. The adventurers and their attributes and abilities are ranked by level, improved by experience and supervised by their Familia's deity.
Bell Cranel, a novice adventurer, is the sole member of the Familia under the goddess Hestia. After being saved by top level adventurer Ais Wallenstein of the Loki Familia, he falls in love with her and decides to improve and become worthy of her attention. All the while mostly unaware that other girls, deities and mortals, also develop feelings for him. Especially Hestia herself.
Creator
Current Season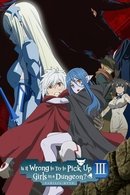 2020 | 9 Episodes
Hestia Familia faces an unparalleled crisis when Bell encounters an injured vouivre (dragon-type monster girl) in the Dungeon. . . one who can talk. His decision to protect the girl, who will come to be called Weine, upends everything he and his familia thought they understood about monsters and threatens to put them at odds with Orario as a whole. But Weine is just part of greater schemes concerning talking monsters, schemes which Hestia Familia will soon find themselves at the heart of.
Content Score
Yes! Looking good!