Overview
The legend of the Four Dragons and the origin of the land has been passed down for generations in the land of Kouka. Currently, Hiryuu Palace has no one else next in line for the throne other than the fifteen year old princess, Yona, who had been raised with care.
Finally, the night of her sixteenth birthday arrives. She expects it to be a wonderful day spent with her peace-loving father, Il, her servant and friend Hak, and her cousin Soo-won, who she had feelings for... However... That night, Yona goes to visit her father to tell him how she really feels, because he opposes to her getting married to Soo-won. However, when she gets to her room, she encounters a shocking truth. The destinies of Yona and the Four Dragons entwine in this period drama fantasy romance!
Featured Crew
Creator
Last Season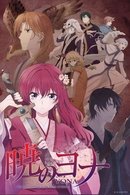 2014 | 24 Episodes
Since Yona is the only princess of a grand kingdom, she has been raised with great care by her doting father and protected by her childhood friend/guard Son Haku and others. However, her fate changes on her 16th birthday, when her beloved cousin Suwon murders her father to claim the throne. She flees the castle to Son Haku's hometown and begins her new life.
Facts
Original Name 暁のヨナ
Status Ended
Networks
Certification -
Type Scripted
Original Language Japanese
Runtime 24m
Content Score
Almost there...