Overview
Two thousand years ago, the black-and-silver-winged dragon, Bahamut, terrorized the magical land of Mistarcia. The humans, god, and demons that inhabited the land united forces against the fiend and sealed its power into a key which was split in two, one half protected by gods and the other protected by demons. Now, Mistarcia is a peaceful realm – until a human woman steals the god's half of the key. Based on the immensely popular digital card game, Rage of Bahamut: Genesis is an exciting blend of action and fantasy.
Featured Crew
Creator
Last Season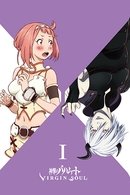 2017 | 24 Episodes
10 years after the world escaped destruction due to the revival of Bahamut, humans at the royal capital gather wealth, the demons are enslaved to assist with the capital's revival, and the gods lose their power due to a decrease in religious piety. The world is thrown off balance as humans, gods, and demons hold their own ideas of justice.
Facts
Original Name 神撃のバハムート
Status Returning Series
Networks
Certification -
Type Scripted
Original Language Japanese
Runtime 24m
Content Score
Yes! Looking good!