Overview
Shōyō Hinata began playing volleyball after seeing the "small giants" who played the sport when he was in elementary school. He suffers a crushing defeat in his first and last tournament in middle school at the hands of his rival Tobio Kageyama. So, Hinata joins Kurasuno High School's volleyball team, vowing revenge against Kageyama. However, Kageyama is also on Kurasuno's team. The former rivals form a legendary combo with Hinata's mobility and Kageyama's precision ball-handling. Together, they take on the local tournaments and vow to meet Kurasuno's fated rival school in the nationals.
Featured Crew
Creator
Last Season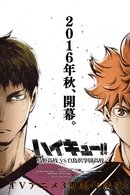 2016 | 10 Episodes
After the victory against Aoba Jousai High, Karasuno High School, once called "a fallen powerhouse, a crow that can't fly," has finally reached the climax of the heated Spring tournament. Now, to advance to nationals, the Karasuno team has to defeat the powerhouse Shiratorizawa Academy. Karasuno's greatest hurdle is their adversary's ace, Wakatoshi Ushijima, the number one player in the Miyagi Prefecture, and one of the country's top three aces. Only the strongest team will make it to the national tournament. Since this match is the third-year players' last chance to qualify for nationals, Karasuno has to use everything they learned during the training camp and prior matches to attain victory. Filled with restlessness and excitement, both teams are determined to come out on top in the third season of Haikyuu!!.
Facts
Original Name ハイキュー!!
Status Returning Series
Network
Certification -
Type Scripted
Original Language Japanese
Runtime 24m
Content Score
Yes! Looking good!