Overview
Media
Fandom
Share
A new mystery is born.
Overview
An astronaut returns home from a year long solo mission in space. She tries to reconnect with her husband and son in their everyday life. Her experiences in space and home lead to events that ultimately will change the course of human history.
Creator
Last Season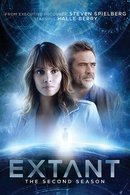 2015 | 13 Episodes
After the death of her husband and losing her son Ethan, Molly Woods battles internal and external struggles to pick the pieces of her life back up and start fresh, this time working with the very people who betrayed her.
Content Score
Yes! Looking good!