Episodes
3
Actress SCARLETT JOHANSSON chats with Ellen about her two new films (""A Love Song For Bobby Long"" & ""In Good Company""). The always-delightful comedy icon CARL REINER chats about teaming up again with George Clooney and Brad Pitt to make ""Ocean's 12.""
Read More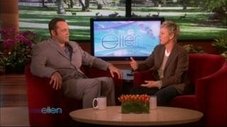 Actor Vince Vaughn (``Couples Retreat''); Pete Yorn and Scarlett Johansson perform.
Read More
We don't have an overview translated in English. Help us expand our database by adding one.