Episodes
4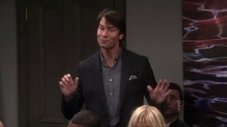 An article about the sexual exploits of the staff of The Inn while on the job is run at a local New York magazine, causing Rhonda to take action and Neal to try to act on his best behavior. Meanwhile, Molly helps Nicole with her modeling career, and Gus helps Larry with his love life.
Read More
Rhonda does not approve of Neal's decision to put a life-sized birdcage in The Inn's bar in order to put his best-looking female staff members on display. Nicole is not happy when she realizes Neal has yet to ask her to work in the birdcage. Meanwhile, Gus sweet talks female guests into tipping him better using insider information about them that Larry has given him.
Read More
The staff of The Inn is on their best behavior when they find out it's time for them to be evaluated to see if they deserve bonuses or not. Meanwhile, Rhonda is upset when Neal fires a bartender for no good reason. Their arguing delays the evaluations and causes one of the staff members to go to great lengths in an effort to resolve the conflict between Rhonda and Neal so everyone's bonuses can be handed out.
Read More
A high-maintenance hotel client checks into The Inn and tries the patience of Nicole, Larry and Gus. The staff must do their best to bite their tongues despite the guest's discourteous antics, and Nicole, already on probation for bad behavior, plots to strike back at the snarky guest.
Meanwhile, Rhonda is fed up with her recently-divorced friend taking over her apartment, and when Neal takes an interest in her, Rhonda attempts to keep the flame going by telling Neal her friend was underwhelmed with Neal's.
performance in bed and he should work on improving
Read More