Overview
Media
Fandom
Share
What if someone you lost... returned?
Overview
The people of Arcadia, Missouri are forever changed when their deceased loved ones suddenly start to reappear.
Creator
Last Season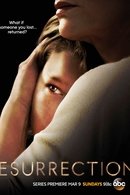 2015 | 13 Episodes
ABC really goes that one step further with this series. It examines what will happen when those loved ones, people you cared for or even may be your pet, suddenly one morning stand at your front door...The little town of Arcadia is changed forever...
Content Score
Yes! Looking good!