Episodes
3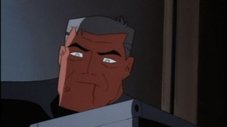 Twenty years after the original series and with a brand new Batsuit, Bruce Wayne takes on a gang of kidnappers to rescue a hostage only to suffer a heart attack. Forced to take up a gun to save his life he decides to retire.
Warren McGinnis, an employee of Wayne-Powers Industries, is given a disc containing classified information about a highly lethal kind of contaminant being manufactured by the company. The informant, a friend and fellow employee, vanishes.
Terry McGinnis, Warren's son, breaks his curfew and has a run-in with a gang called "The Jokerz". He flees to the countryside where an elderly Bruce Wayne comes to his aid. Weakened after the fight Bruce allows Terry to help him back to the manor. While he is unconscious Terry stumbles upon the Batcave.
Terry returns home to find his father dead. Swearing vengeance, he discovers the disc among his father's personal effects and returns to Wayne Manor to tells Bruce about the suspected corruption within his company...
Read More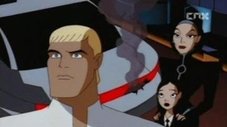 Batman rescues a car careening out of control high over Gotham City; as the family returns to the car, the little girl turns and gives him a baleful look. The next day, while Terry is trying to write a history exam, the girl appears in front of him, pleading for help. Later, at the Batcave, she appears again -- this time mentally showing him a hotel room where she's being held, her parents admonishing her calling for help.
After investigating, Batman discovers that the parents are anything but; posing as teachers for a special school, they've kidnapped the girl, hoping to add her psychic abilities to their organization, the Brain Trust. But to rescue her he has to battle his way through her captors, who also have psychic abilities.
Read More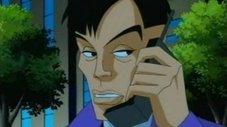 Curaré is back, and she's hunting members of the Society of Assassins before they can kill her for failing to assassinate Gotham's district attorney. Mutura Bootha, the last Society member still standing, enlists Batman's aid in stopping her, adding that if he falls, Batman is next on her list. As further incentive, he's planted a bomb in Gotham that will go off if he doesn't enter a code every 12 hours.
Unfortunately Bruce Wayne is in Malaysia, unreachable due to a hurricane. Batman enlists an eager Max to help, leaving him to protect Bootha, find the bomb, and -- hardest of all -- keep Max from getting too involved.
Read More