Episodes
2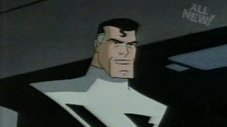 Batman receives a little unexpected help in capturing Inque: Superman. Superman reunites with Bruce Wayne, and extends an offer to Terry to join the Justice League. When Batman's introduction to the League is met with hostility by the other members, Superman takes Batman aside and explains that he has reason to suspect a traitor in their midst; he asks him to keep his eyes and ears open.
Terry reluctantly agrees, finding it difficult to spy on people he's idolized his whole life. When the League steps in to stop a mysterious attack on Metropolis, a missile explosion claims Warhawk's life. Batman is the only one to witness the event, which puts suspicion squarely on his shoulders.
Read More
Expand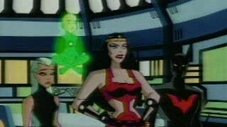 Batman shows the League evidence of Superman's complicity in the death of Warhawk, but the idea is met with some resistance -- particularly from Barda, who flatly refuses to believe that Superman could be responsible, preferring instead to suspect Batman. Barda is convinced when Warhawk reappears, revealing that he didn't die in the explosion. Batman is only partly relieved, armed as he is with a kryptonite sample necessary to stop -- and kill -- Superman if he has to.
Read More
Expand