Episodes
3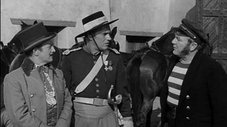 Basilio has begun to enjoy his stay in Los Angeles despite Zorro's interference. He is surprised at how well his war bonds are selling, for the landowners have decided to help support the Spanish government as much as possible. In fact, he and Capitan Mendoza have been able to collect three large chests full of gold. Mendoza suggests that they steal some for themselves before shipping it to Spain, but Basilio has a better idea. He wants it all.
The two men construct a delayed action detonator designed to explode when the gold shipment is at sea so that the evidence of their crime will be destroyed. The next day the thieves pack the cases with rocks and load them on a cart that will take them to the ship bound for Spain.
Zorro follows the shipment and narrowly saves the driver when the deadly cargo explodes ahead of schedule. Back in the pueblo, Basilio and Mendoza gleefully open the chests expecting to see their stolen gold. Instead, the boxes are full of sand and rocks, with a large "Z" inscribed in each of the lids.
Read More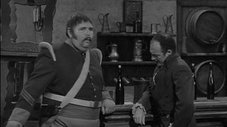 Even with his stolen gold gone, Basilio plans to remain in Los Angeles as a wealthy man. He decides to do so in a way that will let him exert a hold over Moneta Esperon, the attractive daughter of a wealthy landowner. Basilio tells Garcia that Spanish law forbids citizens to possess items made in countries that are at war with Spain. Those that do will forfeit their entire households to those who inform on the lawbreakers.
Garcia is soon convinced that this would allow him to become a don himself, and thus leave the harsh life of the army behind. He is tricked into taking Basilio to Don Esperon's home, where he identifies several items as being from England, France and Italy. The sergeant begins to regret his actions, but Basilio tells him he will be hanged for treason unless he cooperates.
Zorro makes life miserable for Garcia by promising to carve a "Z" in his hide if he goes along with the plan. During the trial Garcia decides to speak up for Don Esperon, much to the viceroy's dismay. Zorro provides another surprise when he bursts into the courtroom and takes Basilio prisoner. He then uses his sword to cut away parts of his prisoner's clothing, proving that the items came from enemy countries. Zorro then demands that Basilio pronounce sentence on Esperon and the cornered criminal has no choice but to declare him innocent.
Read More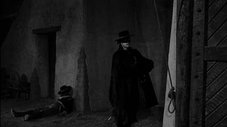 Humiliated by Zorro, Basilio gets his revenge by arresting Sergeant Garcia and hoisting him in the air in the public square outside the cuartel. A large sign dares Zorro to rescue Garcia, but Diego knows Basilio will have hidden lancers throughout the area. When night arrives, so does Zorro, using Bernardo to help create a diversion that draws the soldiers out of town.
Bernardo lures Basilio out of his office by offering to take him to Zorro, but the waiting outlaw instead uses his rope to hang the politician upside down in the square. The lancers return to free Basilio and he rides to the de la Vega hacienda to arrest Bernardo. Basilio accidentally discovers one of the house's secret passages. As he begins to explore, he surprises Diego and knocks him unconscious.
Having finally solved the mystery of Zorro, Basilio celebrates by donning the black costume and mask, then steps outside on the balcony to savor the moment. Capitan Mendoza, who is waiting outside on guard duty, sees the figure of the infamous outlaw and shoots Zorro dead. Much to his surprise, he discovers he has killed Basilio, thus unwittingly protecting Zorro's secret identity.
Read More