Episodes
5
Easy Company lands in Normandy, scattered all across and away from their drop zone. 1st Lt. Meehan, commander of Easy, is killed when his plane suffers a direct hit and 1st Lt. Winters must take command and 1st Lt. Speirs is introduced.
Read More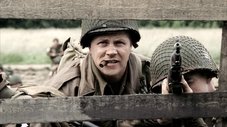 With the addition of many new men, Easy Company heads to Holland to participate in Operation Market Garden and prepare an Allied route into Germany, but they meet stiff German resistance.
Read More
Winters writes a report on the challenge of an unexpected resistance to a German attack, and is haunted by his conscience after shooting a teenage German soldier. Operation Pegasus is depicted. Easy Company is called to Bastogne to repel the sudden German counterattack.
Read More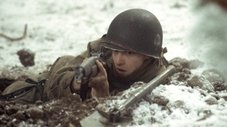 Easy Company experiences the Battle of the Bulge and have to hold ground near Bastogne while running low on ammunition and other supplies. The episode focuses on medic Eugene "Doc" Roe as he helps out his fellow soldiers where he can, while also scrounging for medical supplies, of which the Company is dangerously low.
Read More