Overview
Stripped of everything, the survivors of a horrific plane crash must work together to stay alive. But the island holds many secrets.
Featured Crew
Creator

Creator

Creator
Last Season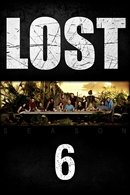 2010 | 18 Episodes
The sixth and final season of the American serial drama television series Lost commenced airing in the United States and Canada on February 2, 2010. The sixth-season premiere was the first to climb in the ratings year-over-year since the second season, drawing 12.1 million viewers. The season aired Tuesdays at 9:00 pm from February 2 to May 18. The series finale aired on Sunday, May 23, 2010. The finale ran two-and-a-half hours starting at 9:00 pm; pushing the local news back a half-hour, followed by the previously announced post-finale special, Jimmy Kimmel Live: Aloha to Lost, at 12:05 am. The season continues the stories of the survivors of the fictional September 22, 2004 crash of Oceanic Airlines Flight 815 on a mysterious island in the South Pacific. The survivors must deal with two outcomes of the detonation of a nuclear bomb on the island in the 1970s. While the on-island story continues, "flash sideways" show a second timeline, in which Flight 815 never crashes. The season was released on DVD and Blu-ray on August 24, 2010, alongside a complete series boxset.
Facts
Status Ended
Network
Certification
Meaning

This program contains some material that many parents would find unsuitable for children under 14 years of age.
Type Scripted
Original Language English
Runtime 45m, 42m
Content Score
Yes! Looking good!