Overview
Raven Baxter is a winsome teen whose ability to glimpse flashes of the future often gets her into hot water.
Featured Crew
Creator
Last Season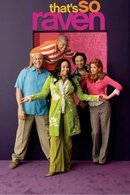 2006 | 22 Episodes
The fourth and final season of That's So Raven aired on Disney Channel from February 20, 2006 to November 10, 2007. This season ultimately became the final season of the show, closing the chapter on the story of the Baxter family, which now consists of only Raven Baxter, Cory Baxter, and Victor Baxter, following T'Keyah Crystal Keymáh's departure from the show in the third season as the matriarch, Tanya Baxter. Anneliese van der Pol and Orlando Brown reprise their roles as Chelsea Daniels and Eddie Thomas respectively. After a record-breaking third season, season four continued to accomplish many firsts for Disney Channel. It reached 100 episodes with its series finale on March 2, 2007 and second to last episode aired that November, a record which was met on October 14, 2011 with Wizards of Waverly Place's 101 episode. There would however be a continuity-error regarding the final three episodes, since they aired after the spinoff, Cory in the House, premiered on January 12, 2007 with Cory and Victor moving to Washington, D.C.. Guest stars for this season included: Rose Abdoo, Candace Cameron, Rae Dawn Chong, Ashley Eckstein, Jasmine Guy, Sammi Hanratty, David Henrie, Steve Hytner, Anne-Marie Johnson, Phill Lewis, Spencer Locke, Brooke Lyons, Frankie Ryan Manriquez, Dan Mott, Kathy Najimy, Geoffrey Owens, Sydney Park, Tim Reid, Karly Rothenberg, Jodi Shilling, Maria Shriver, Cole Sprouse, Dylan Sprouse, Bobb'e J. Thompson, Tiffany Thornton, Dorien Wilson, Annie Wood and Amy Yasbeck.
Facts
Status Ended
Network
Certification
Meaning

Most parents would find this program suitable for all ages.
Type Scripted
Original Language English
Runtime 30m
Content Score
Yes! Looking good!