Episodes
4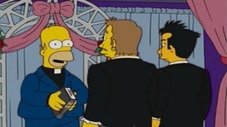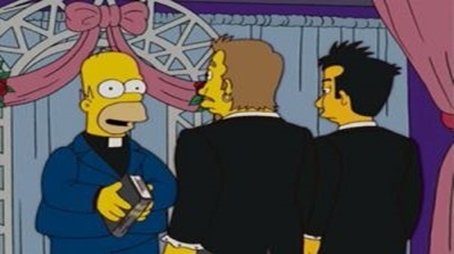 Bart and Milhouse look for someone new to play tricks on and they find their new victim in Howell Huser, a yokel who just fell of the turnip truck. Their pranks get Howell Huser to stop smiling and he leaves town, only to turn up on the Soft News Network reporting that Springfield is the only town he's been to that he doesn't like. The negative publicity affects tourism. Mayor Quimby calls for the town to give him ideas to promote tourism and Lisa suggests they start allowing same sex marriages. The idea is approved and Springfield becomes the place to be for same sex couples to get married. When Reverend Lovejoy won't perform the ceremonies, Homer can't pass up the opportunity to make money and he becomes a certified minister via the Internet. He marries all the gay couples in town and then starts to marry anything to anything else. Patty requires Homer's service; she wants to marry her partner, Veronica, who is a pro-golfer. Marge has trouble dealing with the fact that her sister is gay. Marge discovers Veronica's secret, that she is really a man. Marge stops the wedding and reveals the secret, and when Leslie Robin Swisher (Veronica's real name) proposes that they still get married, she sticks to her guns, she still likes only girls.
Read More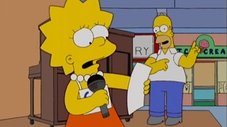 The family tries to eat a total vegetarian meal and everyone except Lisa gets sick from eating the healthy meal. As they moan from the sickness Lisa sings them to sleep. The next morning they've recovered enough to go back to their old dietary habits. On television a commercial airs for a Krusty-sponsored "Li'l Starmaker" competition and Lisa's singing voice seems a natural for the competition. Of course, Lisa and every other child in Springfield signs up. When Clarissa, one of the competitors sings the same song that Lisa was going to sing, and does it much better than Lisa believes she will be able to, Homer reassures her that he will write her a can't lose song. Lisa sings the song and makes it into the final competition. Homer takes charge of her career and writes her more songs that take her into the finals of the competition; it's Lisa versus Cameron, a boy all the girls go crazy over. When Homer oversteps his bounds with his obnoxiousness, Lisa fires him. Homer retaliates by getting himself a new client, Cameron. The final competition begins and Lisa's sings a song she wrote on her own, a song about her relationship with her father. Homer tells her that he was always in her corner and that Cameron is learning the greatest lesson he can ever learn in the music business, don't trust people in the music business.
Read More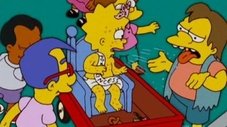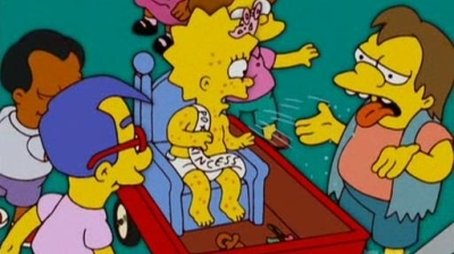 When Maggie is showing signs of being ill, the family goes to "the more boisterous house of worship" in town to find Dr. Hibbert, who tells them that Maggie is developing the chicken pox. After Maggie develops the disease, Marge tries to keep Homer away from her, since he has never had them. After Flanders expresses an interest in getting his kids infected, Homer and Marge open up the house for a "pox party." Milhouse's divorced parents are both at the party and after some "Margerita's" are consumed, find themselves getting back together. Meanwhile, Homer has developed the chicken pox and Marge tries to keep him from scratching. Milhouse likes the idea of his parents getting back together, but then begins to hate it when he has trouble getting either of them to pay any attention to him. After seeing an episode of The O.C. Milhouse and Bart come up with a plan to get his parent's separated again, they plant one of Marge's bras in Kirk & Luann's bed. They don't succeed in breaking them up; rather they break up Homer and Marge. Even after Bart confesses his guilt, Marge doesn't want anything to do with Homer, since he obviously doesn't trust him anymore. Bart concocts an outrageous scheme to get them back together, but it goes terribly wrong and both he and Homer find themselves in the river heading toward the falls needing to place their trust in Marge.
Read More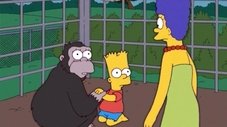 The family is at a church fund-raiser, where Homer tries to ensure his rubber duck onto victory, but Flanders wins the big prize, which he doesn't want and gives it to Marge. In return Marge agrees to watch Rod and Todd while Ned is attending a left-handed convention. While Marge is spending all her time with the Rod and Todd and trying to let them learn how to be boys; Homer takes Bart and Lisa to a home for former celebrity animals and a monkey kidnaps Bart. Marge's ability to be a mother comes into question when Ned discovers what she is doing with his boys and the local news covers Bart's current predicament.
Read More