Episodes
3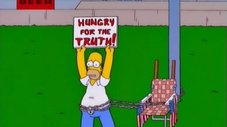 Homer becomes a Good Samaritan after discovering the simple joys of helping people in need–which is put to the test when he goes on a hunger strike after the owner of the Springfield Isotopes attempts to discredit him when Homer stumbles on his plot to discreetly move the team to Albuquerque, New Mexico.
Read More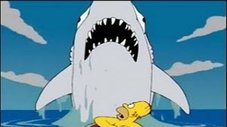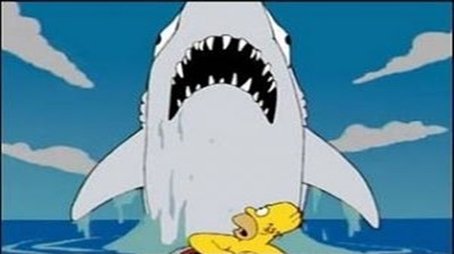 The Simpson family's dog Santa's Little Helper fails to save Homer from a treehouse when it is on fire. Consequently, Homer declares him a coward and disowns him. One day, a photographer finds Santa's Little Helper playing with a Duff Beer can and takes a picture. The picture becomes popular and SLH becomes the new mascot for Duff Beer while the old mascot, Duffman, is fired. Homer earns a lot of money but SLH's original owner shows up, claiming that the dog is rightfully his. Bart fears that he will never see Santa's Little Helper again. The Simpsons conceive a plan to get Duffman rehired as Duff's mascot by showing what a coward Santa's Little Helper is. At a Duff-sponsored beach event, Homer pretends to be drowning (while floating on a keg of beer) but is attacked by a shark. The shark bites the beer keg and becomes drunk, and wins over the crowd on the beach. The shark is named the new mascot of Duff Beer and Santa's Little Helper returns to the Simpson family.
Read More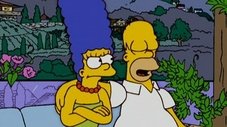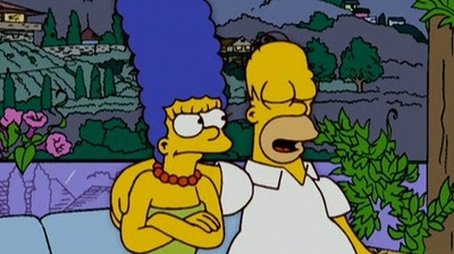 When Homer hears that the Isotopes are on a winning streak, he takes the family to the game. The first baseman's game is going bad, caused by his sexy singing wife Tabitha embarrassing him during the game's national anthem. Buck Mitchell sees Marge and Homer's kiss on the game's Kiss-Cam and comes to them for marital advice. They start working with the couple and Buck's baseball career turns around, but it and the Simpson marriage goes awry again when Buck catches Homer giving Tabitha a neck massage. While Marge and Homer try keeping their marriage together they also try to get Buck and Tabitha back together.
Read More