Episodes
2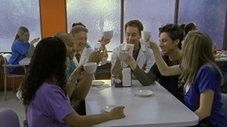 It's J.D.'s last day as an intern, and soon he will become a resident. Carla and Turk are arguing about dating other people. Elliot finally rebels against being everyone's doormat, and J.D. is just trying to stay out of people's way.
Jordan has returned to get a physical and a new patient, Mr. Bober, has been admitted, because he needs his gall bladder removed. He really needs the surgery, but doesn't have the insurance to pay for it. They enlist the help of Dr. Cox, Dr. Wen and Jordan.
Read More
Expand
Dan decides to stay with J.D. for a while after their mom's new fiancé kicks him out, but after spending some quality time with him at the hospital, Dan isn't sure if he likes the cynical person his little brother has become.
Elliot tries to deal with her own problems of a long distance relationship and decides to try moonlighting as a pet examiner with Carla to save up money.
Read More
Expand