Episodes
3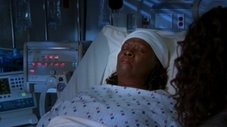 Laverne is brain-dead, and her family decides to take her off life support. One by one, the staff say their goodbyes, except Carla, who stoutly refuses to accept what's happening. She consequently finds herself "haunted" by Laverne. Meanwhile, Jordan gives birth, but Dr. Cox doesn't want to tell anyone because he doesn't want his daughter's birthday to always be associated with Laverne's death.
Read More
Turk tries to assure a worried Carla that their daughter will acknowledge her Latin heritage. Meanwhile the Janitor challenges J.D. to identify everyone in the hospital, when it is discovered that he uses nicknames, because he doesn't know the people's actual names. If J.D. can't name all of them, he must take up the mop for a day. Elsewhere, Dr. Cox realizes that he is lonely without his wife and children.
Read More
As his increasing workload from being Chief of Medicine begins to take a toll, the unimaginable happens when Dr. Cox reaches out to Dr. Kelso for friendship.
Read More