Overview
Welcome to the most magnificent pet shop in Chinatown! Operated by the shadowy Count D, the shop specializes in rare and hard to come by pets... but with each sale comes a contract. And if that contract is broken, watch out! Detective Orcott has linked many odd and unexplained deaths to Count D's shop. Will he solve the mystery or fall prey to it?
Series Cast
4 Episodes

Q-Chan (voice)

4 Episodes
Last Season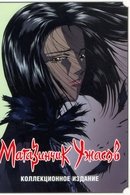 1999 | 4 Episodes
Season 1 of Pet Shop of Horrors premiered on March 1, 1999.
Recommendations
We don't have enough data to suggest any TV shows based on Pet Shop of Horrors. You can help by rating TV shows you've seen.
Content Score
We're so close, yet so far.