Episodes
4
Through a musical experience, Wilbur has a music publisher record a song written, composed, and sung by Ed.
Read More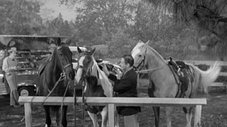 A Granfather is eternally greatful when Ed saves his grandaughter's life at the park. The Grandfather invites the Posts and Ed to his palatial state in Catalina, but Ed refuses to go with.
Read More
Everyone gets involved in a local variety show, which makes Ed feel left out. Ed then concocts a plan which he can be a one-horse band and starts to practice in the barn after midnight.
Read More