Overview
The Super Sentai Series is the name given to the long-running Japanese superhero team genre of shows produced by Toei Co., Ltd., Toei Agency and Bandai, and aired by TV Asahi. The shows are of the tokusatsu genre, featuring live action characters and colorful special effects, and are aimed mainly at children. The Super Sentai Series is one of the most prominent tokusatsu productions in Japan, alongside the Ultra Series and the Kamen Rider Series, which it currently airs alongside in the Super Hero Time programming block on Sundays. Outside Japan, the Super Sentai Series are best known as the source material for the Power Rangers franchise.
Featured Crew
Creator
Last Season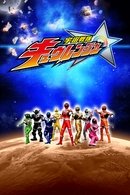 2017 | 47 Episodes
Earth has been taken over by invaders. With the universe under their thrall, the tears of the people awaken the nine ultimate saviors, chosen by the KyuTama, and they are here for the galaxy's salvation. Nine different people with strong personas. The most powerful warriors arrive here and now.
Find out where to watch this on:
Facts
Status Returning Series
Network TV Asahi
Certification -
Type Scripted
Original Language Japanese
Runtime 30m
Homepage http://www.super-sentai.net/
Content Score
Yes! Looking good!