Overview
Media
Fandom
Share
Overview
The Super Sentai Series is the name given to the long-running Japanese superhero team genre of shows produced by Toei Co., Ltd., Toei Agency and Bandai, and aired by TV Asahi. The shows are of the tokusatsu genre, featuring live action characters and colorful special effects, and are aimed mainly at children. The Super Sentai Series is one of the most prominent tokusatsu productions in Japan, alongside the Ultra Series and the Kamen Rider Series, which it currently airs alongside in the Super Hero Time programming block on Sundays. Outside Japan, the Super Sentai Series are best known as the source material for the Power Rangers franchise.
Creator
Current Season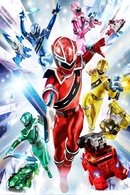 2020 | 10 Episodes
A princess from the Land of Jewels comes to Earth with the Kirama Stones to find individuals with strong "shining spirits" known as Kiramental to become the Kiramagers and fight the threat of the Yodon, an imperial army of darkness.
Facts
Original Name スーパー戦隊シリーズ
Status Returning Series
Network
Type Scripted
Original Language Japanese
Content Score
Pump it up! We're close now.