Episodes
4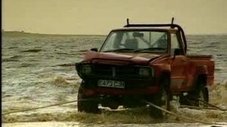 REVIEWS: Mazda RX-8 • Fiat Panda
CHALLENGE: Is a Toyota Hilux really indestructible?
Jeremy drives the Mazda RX8 and James drives the new Fiat Panda and is quite surprised when it doesn't fall to bits. Richard looks at some modern classics, the Volkswagen Corrado VR6 and the Mercedes 190E 2.5 16 Cosworth. An 11-year-old diesel Toyota Hilux is tested for its durability by Jeremy. He drives in into a wall, a tree and through a shed. It's left in the Severn Estuary, home to the second biggest tide in the world, hit with a wrecking ball, dropped and set on fire. They even drop a caravan on top of it, but still it works. Sadly, the same treatment wasn't given to this week's Star in a Reasonably Priced Car, Simon Cowell.
Read More
Expand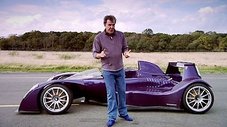 The guys race each other using a bike, a boat and a car, to find the fastest way across London. The Stig drives the Caparo T1 in an attempt to beat the long-standing fastest time set by the Koenigsegg. Richard regains the will to live by racing an Aston Martin V8 Vantage Roadster against a man with rockets strapped to his back. Simon Cowell is the Star in a Reasonably Priced Car.
Read More
Expand