Overview
Right now you're hurtling around the sun at 64,000 miles an hour (100,000 kms an hour). In the next year you'll travel 584 million miles, to end up back where you started. Presenters Kate Humble and Dr Helen Czerski follow the Earth's voyage around the sun for one complete orbit, to witness the astonishing consequences this journey has for us all.
Series Cast
3 Episodes
Last Season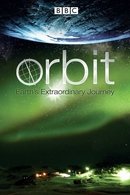 2012 | 3 Episodes
Season 1 of Orbit: Earth's Extraordinary Journey premiered on March 4, 2012.
Recommendations
We don't have enough data to suggest any TV shows based on Orbit: Earth's Extraordinary Journey. You can help by rating TV shows you've seen.
Content Score
We're so close, yet so far.