Episodes
1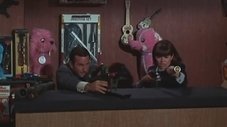 KAOS is secretly smuggling secrets out of the country. 99 discovers they are using a Department Store as a front and Polly Dollys to smuggle out the secrets. When one pulls the doll's string, Polly reveals top secrets. Max and 99 get caught by KAOS. Using children's toys, Max and 99 attempt to fight their way to safety and stop KAOS' smuggling ring.
Read More
Crew
0
Directed by: No director has been added.
Written by: No writer has been added.