Episodes
6
After Stan is arrested for tax evasion, Grace and Karen timidly visit him in prison. Grace is so moved to help her worried friend that she moves right into Karen's deluxe apartment-in-the-sky, where she becomes a demanding guest who's soon hooked on servants, bubble baths and an extravagant lifestyle. Meanwhile, as Stan's attorney, Will struggles with stage-fright when he babbles on during a TV news interview, so Jack convinces him to polish his communication skills by attending an acting class ruled by an imperious teacher.
Read More
In the aftermath of his parents' divorce, Will salvages a beloved garden gnome – nicknamed ""Squatsie"" – and proudly plants the childhood relic in his apartment's community area until Grace accidentally delivers a coup de grace on the gnome's dome with a shovel. Elsewhere, Jack consults his acting coach when he fears that his heterosexual role in a mattress commercial produced by Karen will stereotype him for more meaningful gay acting gigs in the future.
Read More
When Grace accompanies Leo to dinner with some ""friends,"" she doesn't realize that he's tricked her and instead introduced her to his real parents and she soon regrets her earlier salty dialogue and suggestive attitude. Elsewhere, Jack is again confronted by Zandra his gruff acting teacher when he tries to showcase his meager talent in a class while a willing Will joins Karen in subjecting to a Botox facial injection.
Read More
Dynamic enterprisers Will and Grace begin a new business venture as they buy old apartments to refurbish and re-sell for a tidy profit. When budding ""student nurse"" Jack bumps into his former acting mentor Zandra, the pair of entrepreneurs finds their first project apartment. Meanwhile, Karen renews her romance with Lyle Finster, but the couple's bliss is interrupted by an unfortunate houseguest when Lorraine moves in.
Read More
Enjoying the success of their new business venture, entrepreneurs Will and Grace help their apartment buyers Jack and Stuart settle into their new life under one roof. However, when Grace receives a higher offer on the apartment, the ""friendly flippers"" attempt to break up the happy couple by encouraging Jack's cold feet as they see a chance to make a quick buck. Meanwhile, Karen demands that Lyle finally discipline his unruly daughter Lorraine, nearly shattering the couple's budding romance.
Read More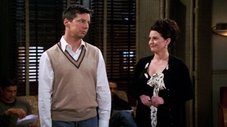 After losing his job as the host of "JackTalk," Jack vows never to return to acting. An unrelenting Karen, however, will not let Jack give up on his passion and decides to do whatever it takes to get Jack to an audition.
Read More