Overview
Gatchaman is a three-part original video animation (OVA) based on the popular 1970s anime Gatchaman. It was released in Japan and the United States during the mid-1990s. This version of Gatchaman is set in the year 2066 where the evil leader of the nation of Hontwall is threatening to take over the planet. Scientists from the International Science Organization are disappearing and only five teenage heroes, the Science Ninja team, can stop the disaster. The OVAs were licensed by Urban Vision through Harmony Gold USA and were released on VHS and DVD. At Anime Boston 2013, Sentai Filmworks had announced that they have rescued the OVA series along with the original 1970's series for a DVD re-release in October. The series was made available for streaming through Crunchyroll.
The series was originally dubbed by Harmony Gold and Urban Vision, however, Sentai Filmworks confirmed that the OVAs will be redubbed for their upcoming DVD and Blu-ray re-release to match the uncut TV series dub.
Featured Crew
Creator
Last Season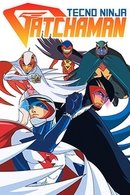 1972 | 85 Episodes
An enormous dragon-shaped warship decimates a city with plasma beams and giant robotic arms. Its target is the Mantel Plan, a network unifying the world's energy resources. As the sinister ship heads for its next target a team of specialists rise to the rescue: the Gatchaman. Piloting their ship, the Phoenix, the Gatchaman launch a counterattack. Once inside the enemy ship they come face to face with the Galactor's entire army of assassins.
Keywords
No keywords have been added.
Content Score
Almost there...