Overview
Vikings follows the adventures of Ragnar Lothbrok, the greatest hero of his age. The series tells the sagas of Ragnar's band of Viking brothers and his family, as he rises to become King of the Viking tribes. As well as being a fearless warrior, Ragnar embodies the Norse traditions of devotion to the gods. Legend has it that he was a direct descendant of Odin, the god of war and warriors.
Featured Crew
Creator
Last Season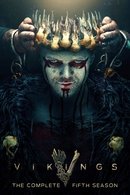 2017 | 20 Episodes
Season five begins with Ivar the Boneless asserting his leadership over the Great Heathen Army, while Lagertha reigns as Queen of Kattegat. Ivar's murder of his brother Sigurd sets the stage for vicious battles to come as Ragnar's sons plot their next moves after avenging their father's death. Bjorn follows his destiny into the Mediterranean Sea and Floki who is suffering from the loss of his wife Helga, takes to the seas submitting himself to the will of the Gods. This season is full of startling alliances and unbelievable betrayals as the Vikings fight to rule the world.
Facts
Status Returning Series
Network
Certification
Meaning

This program contains some material that many parents would find unsuitable for children under 14 years of age.
Type Scripted
Original Language English
Runtime 44m, 60m
Content Score
Yes! Looking good!