Season Cast
6
Season Crew
0
There are no crew records added to Series 2.
Episodes
6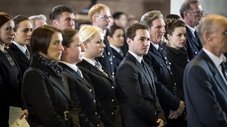 A police convoy escorting a civilian under a witness protection scheme is attacked. The witness is hospitalised and all police officers are killed – with the exception of Inspector Lindsay Denton, who organised the operation at very short notice and who only informed DCC Dryden. Ted Hastings asks Steve and Kate to investigate Denton, but Kate initially asks not to take part. She explains that she trained together with Jayne Akers, one of the dead officers, but she has also been having an affair with Jayne's husband, Rich. She is replaced by Georgia Trotman, an ambitious but less-experienced officer who is troubled that the team are treating Denton as a suspect and delving into her finances. However, she and Steve quickly grow close, while Hastings tries to keep up appearances with his estranged wife. Denton, shunned by her fellow officers, is transferred to a missing persons unit, and Kate, undercover once again, becomes her assistant. Kate follows Denton to the nursing home where her mother lives and sees Denton ring the hospital where the injured witness is being treated. Georgia and Steve race to the hospital and confront a man disguised as a nurse. Steve is knocked unconscious; Georgia, who sees the killer's face, is thrown out of a window to her death, and the witness is killed.
Read More
Crew
0
Directed by: No director has been added.
Written by: No writer has been added.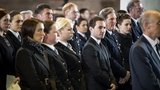 Steve discovers that a nurse on the witness's ward, Claire Tindall, was threatened into giving the killer access by a man she knows as Joe, but whom she is unable to identify. Denton begins her work in missing persons with the case of a vanished teenager named Carly Kirk. As they work together, Kate attempts to gain Denton's confidence, but Denton sees through this, assaults Kate and steals her phone. Denton is interviewed again by AC-12 and claims that she rang the hospital to ask that the witness exonerate her, but the team do not believe her and Hastings arrests her for conspiracy. At this point Denton turns the tables and gives evidence, on the record, that Steve made an unofficial romantic visit to Claire, Hastings has financial problems (something he previously cited as making Denton vulnerable to bribery) and Kate's mobile phone has an "interesting" call history (alluding to her affair with Richard Akers). Meanwhile, a story surfaces in the press that DCC Dryden took penalty points for his wife when she committed a driving offence.
Read More
Denton is remanded in custody, where she is victimised by both staff and prisoners, having her hands badly burnt and warned not to speak to the authorities. Hastings requests witness protection records from Dryden, allowing AC-12 to discover the identity of the dead witness: Tommy Hunter, the gang leader previously arrested by Tony Gates. Cottan believes that the mole who betrayed the escort was in fact Jayne Akers, the liaison officer. Kate visits Denton, who knows about Kate's affair with Jayne's husband, which Cottan also suspects. Denton's accusations also cause friction between Hastings and Steve, and Dryden's driving offence continues to occupy the press. To draw attention away from himself, Dryden leaks the information that Denton is the officer under investigation. At the site where Denton stole Kate's phone and blew her cover, Kate discovers a body, apparently that of the missing Carly. She re-interviews Denton, who claims that Dryden, a married man, had an affair with her and has set her up. Kate discovers that Dryden and Denton did previously work together, lending some credence to this story. Cottan discovers from forensic accountants that Jayne Akers received a large sum of cash shortly before she died.
Read More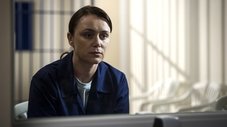 Steve and Kate persuade Hastings to bring Dryden in for questioning but find the DCC uncooperative and frosty. They face a further problem when the Major Violent Crimes team bring in Richard Akers before they can do so, as Steve mistakenly assumed that Richard was unaware of his wife's corruption and so decided he was not a priority. When they do get to interview Akers, he reveals that Jayne kept recordings of Tommy as leverage and stored them at a PO Box. The recordings show Tommy threatening to inform on various parties, including corrupt police officers "from the two-faced bastard right down to The Caddy", unless they ensure his witness protection and immunity are maintained. A recording of Dryden publicly criticising the immunity Tommy and others like him receive suggest he is the corrupt officer in question, and AC-12 begin seeking the identity of 'The Caddy'.
Read More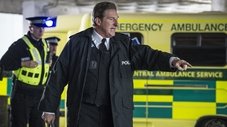 Denton manages to escape her kidnappers in violent circumstances that lead to the death of one and the hospitalisation of the other, and AC-12 find themselves forced to decide where their loyalties lie between Denton and Dryden. With the evidence mounting against the latter, the discovery of pictures showing Dryden and 15-year-old Carly Kirk in a compromising situation is the final nail in the coffin, resulting in Steve and Kate finally arresting the DCC. However, when presented with AC-12's evidence, Dryden still strongly maintains he is being set up. Meanwhile, Cottan approaches DC Morton from his old team. Morton is the officer who sold the story about Dryden's driving offence to the papers, and Cottan blackmails him into falsely saying Jeremy Cole, the deceased kidnapper, was nicknamed 'The Caddy' by fellow officers.
Read More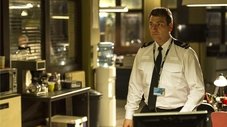 Dryden claims that Denton was at the car park when he was photographed in the car with Carly. Steve gets closer to Denton but reveals to Kate that he is undercover, as she was earlier. Steve finds the pay-off money hidden among the possessions Denton took from her mother's room.
Read More