Episodes
2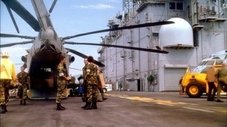 **June 20, 2001** Still aboard the USS Guadalcanal, Mac is called upon to prosecute a Major accused of negligent homicide by the ship's Captain.
Much to Mac's surprise and dismay, Harm arrives on board to defend the Major and also try to clear the air with Mac regarding their relationship. But as they both become entrenched in the case in which the victim drowned during a nighttime exercise in extremely bad weather conditions, they're hard-pressed to find time to discuss their personal business. Meanwhile, Admiral Chegwidden has his hands full with his teenage goddaughter who has run away from home.
Read More
Expand
A Navy psychiatrist in Afghanistan is accused of malpractice and a age discrimination suit are the cases assigned to Harm, Mac & Bud.
Read More
Expand