Episodes
3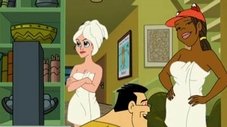 Captain Hero uses his X-ray vision to spy on the girls in the shower. As a result of doing it too much, Foxxy receives a brain tumor. Afterwards, Captain Hero feels so guilty that he decides to give up his powers, which makes him a quadriplegic in a breath-controlled wheel chair.
Read More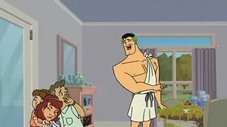 Captain Hero is thrilled to discover Greeks have moved in next door, but remains oblivious to the fact that it is a family of Greek immigrants and not a Greek fraternity. When the Greeks won't let Captain Hero rush their house, he sets his sights on revenge, including fraternity-style pranks like kidnapping their daughter. Meanwhile, Ling-Ling's sickly father moves into the Drawn Together house and falls in love with Toot. Like a typical gold digger, Toot marries the rich old man for his money. But will Ling-Ling put up with losing his inheritance to a fatty?
Read More
Wooldoor's new children's show is finally hitting the air, but Clara is certain that it will turn kids gay faster than Tinky-Winky and SpongeBob combined. A Terminator from the future shows up to kill Wooldoor, but Xandir saves the little guy and explains that the show does really does turn the whole world gay. The Terminator was sent back by the remaining few straight people to ensure the straight future. In the mean time, Toot pines away for the mythical "Wiener Mobile," which is supposed to give out free hot dogs. but only to the worthy.
Read More