Overview
Media
Fandom
Share
Overview
Heimat is the overall title of several series of films in 32 episodes written and directed by Edgar Reitz which view life in Germany between 1919 and 2000 through the eyes of a family from the Hunsrück area of the Rhineland. Personal and domestic life is set against glimpses of wider social and political events. The combined length of the 32 films is 53 hours and 25 minutes, making it one of the longest series of feature-length films in cinema history.
The title Heimat is a German word meaning "homeland". Its use is partly an ironic reference to the film genre known as Heimatfilm which was popular in Germany in the 1950s. Heimatfilms were noted for their rural settings, sentimental tone and simplistic morality.
Aesthetically, all three series are notable for their frequent switching between colour and black-and-white film to convey different emotional states.
Creator
Last Season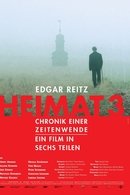 2014 | 6 Episodes
Heimat 3 (subtitled Chronik einer Zeitenwende — Chronicle of a Changing Time) premiered in 2004. It continues Hermann's story in 1989 as he returns to Schabbach and depicts the events of the period from the fall of the Berlin Wall until 2000.
Content Score
We're so close, yet so far.