Episodes
3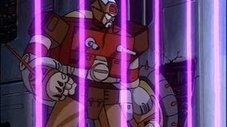 The Quintessons use Wreck-Gar, Cyclonus, Ultra Magnus and Marissa as research subjects, watching how they interact. Unfortunately for all of them, the ship they are on is heading for a black hole and this unusual group will have to work together to survive.
Read More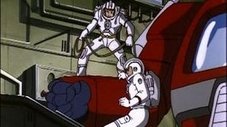 While testing a new ship alloy, Jessica Morgan and Gregory Swafford (who hates Transformers) stumbled upon the ship Optimus Prime was on and saved him. Some time afterward, Jessica gets hurt in a battle between Protectobots, Technobots and Terrorcons, causing her father and Gregory to plot revenge. They use Optimus to lure the Autobots into a trap, getting them infected with Hate Spores which make them go berserk. As the infection spreads, Sky Lynx seeks out a Quintesson that could bring Optimus back to life.
Read More
Optimus Prime is back and leads a team to Charr to retrieve the ship alloy from Galvatron. Galvatron guides them to it's location, but they confront a couple dangers and must fend off infected Transformers. Optimus and SkyLynx are the only ones not infected and barely get away with the alloy. The alloy is used to safeguard Optimus from the Hate Plague for his battle against Rodimus as the Matrix is the key to the cure.
Read More