Overview
Media
Fandom
Share
Overview
In Tokyo's downtown district of Ikebukuro, amidst many strange rumors and warnings of anonymous gangs and dangerous occupants, one urban legend stands out above the rest—the existence of a headless "Black Rider" who is said to be seen driving a jet-black motorcycle through the city streets.
Mikado Ryuugamine has always longed for the excitement of the city life, and an invitation from a childhood friend convinces him to move to Tokyo. Witnessing the Black Rider on his first day in the city, his wishes already seem to have been granted. But as supernatural events begin to occur, ordinary citizens like himself, along with Ikebukuro's most colorful inhabitants, are mixed up in the commotion breaking out in their city.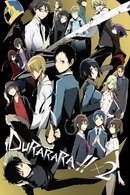 2015 | 36 Episodes
Although peace has finally returned to Ikebukuro, many of the odd occurrences have become common sights around the city. One such case is the police's constant pursuit of Celty Sturluson, the Headless Rider. Moreover, someone has placed a large bounty on her, igniting the motivation of gang members all over to begin searching for the supernatural creature as well. Meanwhile, Mikado Ryuugamine is approached by Aoba Kuronuma, a mysterious underclassman with unknown intentions, who reveals that he knows Mikado's true identity. But Ikebukuro's state of tranquility is short-lived, as a new threat appears in the form of a murderer who goes by the pseudonym "Hollywood," known for wearing a different mask each time they commit a crime. As the various events taking place prove to be connected yet again, Ikebukuro is thrown into another conflict that threatens to engulf the entire city in chaos.
Content Score
Almost there...