Overview
Torchwood is a British science fiction television programme created by Russell T Davies. The series is a spin-off from the 2005 revival of the long-running science fiction programme Doctor Who. Torchwood follows the exploits of a small team of alien hunters, who make up the Cardiff branch of the fictional Torchwood Institute, which deals mainly with incidents involving extraterrestrials.
Featured Crew
Creator
Last Season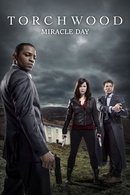 2011 | 10 Episodes
One day, nobody dies. All across the world, nobody dies. And then the next day, and the next, and the next, people keep ageing - they get hurt and sick - but they never die. The result: a population boom, overnight. With all the extra people, resources are finite. It's said that in four month's time, the human race will cease to be viable. But this can't be a natural event – someone's got to be behind it. It's a race against time as CIA agent Rex Matheson investigates a global conspiracy. The answers lie within an old, secret British institute. As Rex keeps asking "What is Torchwood?" he's drawn into a world of adventure, and a threat to change what it means to be human, forever.
Facts
Status Ended
Networks
Certification
Meaning

This program is specifically designed to be viewed by adults and therefore may be unsuitable for children under 17
Type Scripted
Original Language English
Runtime 45m, 50m
Content Score
Yes! Looking good!