Overview
Media
Fandom
Share
Overview
An American reality competition show in which chefs compete against each other in culinary challenges and are judged by a panel of professional chefs and other notables from the food and wine industry with one or more contestants eliminated in each episode.
Current Season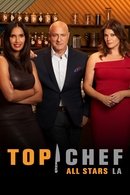 2020 | 14 Episodes
Season 17, All Stars L.A., features the fiercest group of competitors the show has seen with 15 finalists, front runners and fan favorites from seasons past who have all returned to finish what they started and battle it out for the coveted title.
Content Score
We're so close, yet so far.