Overview
Tense drama series about the different challenges faced by the British Security Service as they work against the clock to safeguard the nation. The title is a popular colloquialism for spies, and the series follows the work of a group of MI5 officers based at the service's Thames House headquarters, in a highly secure suite of offices known as The Grid.
Featured Crew
Creator
Last Season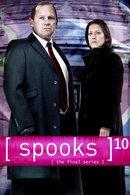 2011 | 6 Episodes
In the tenth and final series, secrets tumble out when former foes of Harry Pearce during the Cold War fly into London to negotiate a partnership between Russia and the UK.
Find out where to watch this on:
Facts
Status Ended
Network
Certification
Meaning

Only those over 15 years are admitted. Nobody younger than 15 can rent or buy a 15-rated VHS, DVD, Blu-ray Disc, UMD or game, or watch a film in the cinema with this rating. Films under this category can contain adult themes, hard drugs, frequent strong language and limited use of very strong language, strong violence and strong sex references, and nudity without graphic detail. Sexual activity may be portrayed but without any strong detail. Sexual violence may be shown if discreet and justified by context.
Type Scripted
Original Language English
Runtime 60m, 58m
Content Score
Almost there...