Episodes
7
Hook tells Emma that her fate is at stake in Gold's plan while Regina leads the villains on a wild goose chase. Henry makes a breakthrough in his search to find the Author, but Mary Margaret and David need a moment to reconsider the best course of action. In a Fairy Tale Land flashback, Snow and Charming search for a way to ensure their child will grow-up to be a hero. When a traveling peddler directs them to visit a kindly old hermit, Snow and Charming are presented with a choice that could secure their child's goodness, but at a price that will haunt them for years to come.
Read More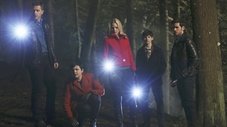 Emma is still reeling after learning the truth of her parents' history with Maleficent, but she must focus on finding the Author, who is running loose in Storybrooke, before Gold does. When Gold's quest for his happy ending grows more urgent, he blackmails Regina into helping him. In a Fairy Tale Land flashback, Robin Hood learns what it means to be an honorable thief when he accepts a proposition by Rumpelstiltskin to travel to Oz to steal a valuable magic elixir from the Wicked Witch.
Read More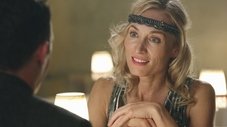 In fictional 1920s England, viewers meet a young Cruella, whose oppressive mother uses her Dalmatians to terrorize her daughter. Cruella is confined to her mother's attic until a mysterious stranger arrives and empowers her to challenge her captor. In Storybrooke, Regina gains leverage to keep Gold from interfering with her plan to rescue Robin, but her trip to New York takes the backseat when she and Emma learn that Cruella has kidnapped Henry.
Read More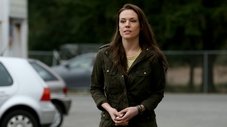 Emma's potential for darkness is looming over everyone, but when Emma realizes Maleficent's daughter Lily is in fact her closest friend from her foster care days, she resolves to find Lily and reunite her with her mother. Regina joins forces with Emma and together they set out to track down Lily and to warn Robin about Zelena. However, neither of them is prepared for the harsh realities they'll encounter in the outside world. Meanwhile, in Storybrooke, Gold faces a crisis involving Belle. In a foster care flashback, things are looking up for young Emma with her new family until Lily's appearance threatens to destabilize everything.
Read More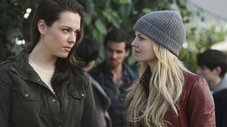 Emma returns to Storybrooke to reunite Lily with Maleficent while Regina and Robin struggle to cope with the implications of Zelena's pregnancy. When Gold's health takes a turn for the worse, Isaac looks to a new ally for help procuring the magic ink he needs to re-write history. In a Fairy Tale Land flashback, Cora returns from Wonderland to beg Regina's forgiveness on the anniversary of Daniel's murder. Cora vows to help her daughter find true love, but Regina remains suspicious of her mother's intentions.
Read More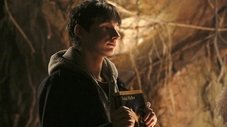 The Author proves to be a formidable wild card and forges an alliance with Gold. Emma, her parents, Hook and Regina scramble to stop them, but when Gold and the Author turn the tables on heroes and villains alike, the prospect of any happy outcome appears worlds away. Henry discovers he has big shoes to fill as he steps up to save his family before the story's final page is turned. It's a race to the finish, and everything culminates with a shocking twist that will leave the residents of Storybrooke reeling.
Read More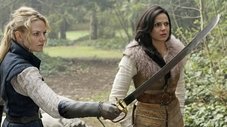 The Author proves to be a formidable wild card and forges an alliance with Gold. Emma, her parents, Hook and Regina scramble to stop them, but when Gold and the Author turn the tables on heroes and villains alike, the prospect of any happy outcome appears worlds away. Henry discovers he has big shoes to fill as he steps up to save his family before the story's final page is turned. It's a race to the finish, and everything culminates with a shocking twist that will leave the residents of Storybrooke reeling
Read More