Overview
Media
Fandom
Share
Overview
Housos is an Australian comedy television series created by Paul Fenech for SBS, that screens on SBS One. The series is a satirical parody of low income Australian residents of fictional suburb Sunnyvale, who are living in Housing Commission public housing. On 1 November 2012, a film based on the series was released in Australian cinemas, titled Housos vs. Authority. On 9 September 2012 it was announced that Housos would return for a second series, which premiered 22 July 2013.
Creator
Housos is currently available to watch with ads in the United States. JustWatch makes it easy to find out where you can legally watch your favorite movies & TV shows online. Visit JustWatch for more information.
Current Season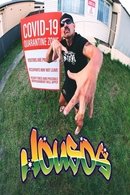 2020 | 5 Episodes
COVID-19 has met its match. The beer drinking, bong smoking, burnout loving housos of Sunnyvale are back, and they are in lockdown. When the virus restrictions come in, the housos do all they can to break the rules.
Content Score
We're so close, yet so far.