Episodes
4
Pascoe returns home for the grand country wedding of a school friend. Soldier Ian Henslowe is marrying Jill Lowry, favourite daughter of wealthy farmer Ted Lowry. The reception is disrupted by the discovery of a dead body in the Lowry's pig sheds. The victim is Ian's best friend, fellow soldier Martin Wilkie.
Dalziel, who's just returned from a hospital check-up for his dodgy heart, arrives to investigate. Ian's devastated when Jill admits that she was having an affair with Wilkie. Dalziel and Pascoe visit Wilkie's regiment and his home, only to find that it has just been ransacked and set on fire by an intruder; Dalziel tells Pascoe he is too close to the suspects to stay on the case; instead he can remain at his parents' and hope to pick up gossip.
Pascoe does not get on with his father, who has always resented his son's decision not to go into farming, especially after the recent hardships of the foot-and-mouth outbreak. Instead, Bill Pascoe has relied for help on Pascoe's cousin, T
Read More
An American woman tracing her family appears in a graveyard. The only person she meets is the gravedigger. Next time she's seen she is found dead by a bunch of squaddies. Dalziel comes to investigate and bumps into another old flame, Jenny Ettrick. Later, one of the squaddies kills himself after being harassed by his sergeant As Dalziel starts investigating, they find that the victim may have drunk in the squaddies bar. Another squaddie turns up dead and while investigating that murder they find out that there might be a case of mistaken identity
Read More
While investigating the death of a wealthy entrepreneur, Dalziel is reunited with old flame Kay Miclean, whose estranged husband was the victim. While all the evidence points towards the fact that he committed suicide, the victim's son and Pascoe believe that it could be murder. Dalziel believes otherwise until another death occurs.
Read More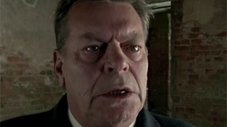 On Halloween, Kate Johnson is killed in her bedroom, the victim of a shotgun blast. Her husband Guy is the obvious suspect, having now disappeared. In an odd twist, the couple had been part of a television broadcast the previous Halloween where hypnotist Lee Knight demonstrated that people could be induced to do anything, including murder. The dead woman's daughter, Katherine Taylor, is convinced that the hypnotic suggestions of a year ago are what caused her father to kill her mother and that Knight is responsible. When she is found dead however, the case takes yet another turn. Meanwhile, Dalziel undergoes hypnotherapy to quit smoking.
Read More