Overview
Humans live in the world of Assiah, demons in Gehenna. The two dimensions are not meant to interfere with each other, but demons still possess creatures in Assiah in spite of this. The humans who can fight these demons are known as exorcists. Rin Okumura is a boy who bears the curse of being Satan's illegitimate son. His foster father sacrificed himself to save him from demons. To avenge his foster father's death as well as to prove himself, Rin decides to follow the path of an exorcist and defeat his own father, Satan. To hone his raw skills, Rin enters True Cross Academy to train with other exorcist candidates.
Featured Crew
Creator

Creator
Last Season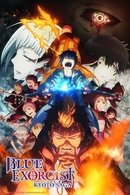 2017 | 12 Episodes
The ExWire of True Cross Academy are beset with shock and fear in the aftermath of discovering that one of their own classmates, Rin Okumura, is the son of Satan. But for the moment, they have more pressing concerns than that of Rin's parentage: the left eye of the Impure King, a powerful demon, has been stolen from the academy's Deep Keep. After an attempt is made to steal the right eye in Kyoto as well, Rin and the other ExWires are sent to investigate the mystery behind the Impure King and the ultimate goal of the thief. While this mission has them cooperating for the time being, Rin has never felt more distant from his fellow exorcists. In his attempt to reconcile with them, he undergoes specialized training to control his dark power. However, when the right eye is stolen not long after their arrival, the unthinkable threat of a traitor amongst them leaves them in need of all the power they can get.
Facts
Original Name 青の祓魔師
Status Ended
Networks
Certification
Meaning

This program contains some material that many parents would find unsuitable for children under 14 years of age.
Type Scripted
Original Language Japanese
Runtime 24m
Content Score
Yes! Looking good!