Overview
Some guys have no luck; he's got no pulse. That's life for poor unfortunate, undead Ayumu. First, he was murdered by a serial killer. Total bummer. Then he was resurrected as a zombie by a cute little Necromancer. That seemed pretty cool until she moved into his house, refused to speak, and forced his rotting carcass to do all the cooking. After that, a magical girl in a pretty pink dress used her matching chainsaw to chop his corpse in half. Luckily, the Necromancer's powers of resurrection trumped those of the chainsaw chick, so instead of dying (again), Ayumu became the world's first magical girl zombie. There's also a voluptuous vampire ninja who thinks zombie boy's a pervert – and a hideous crayfish demon who wants to devour him. Confused? All you gotta know is this: zombies, frilly dresses, demons, and moe chainsaws. Pink. It's the new dead.
Featured Crew
Creator
Last Season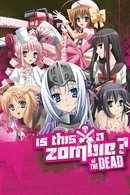 2012 | 10 Episodes
Ayumu Aikawa must continue to fight the Megalo in place of Haruna, who continues to recharge her magical powers. While trying to figure out the mysteries behind the people who are releasing these Megalo in the world, Ayumu meets a beautiful, black-haired girl by chance, and she only has eyes... for his butt.
Facts
Original Name これはゾンビですか?
Status Ended
Network
Certification
Meaning

This program is specifically designed to be viewed by adults and therefore may be unsuitable for children under 17
Type Scripted
Original Language Japanese
Runtime 25m
Content Score
Almost there...